Translator:
News Agency of BIT,
Zhang Andi
Edito
r:
News Agency of BIT, Zhang Andi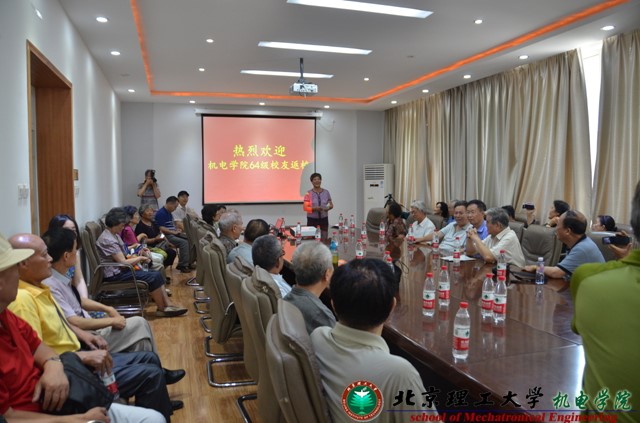 On the morning of July 14, 44 alumni of the School of Mechatronical Engineering from the Class of 1964 got together in Beijing Institute of Technology (BIT) fifty years after graduation. They got together in response to the old alumni gathering activity held by the school, known as Alumni's Friendship Great Deep as Oceans. Attendants of the activity included representatives from the school, such as Lao Yunliang, Song Shihe, Liu Weiqin, Chairwoman Li Ping, and Vice Chairman Chen Jun of the Party Committee of the school and Li Ming, who was in charge of affairs related to old alumni.
Chairwomen Li first welcomed the coming of present alumni. Afterwards, she introduced them the development, subject settings, teachers and faculty, students work and international communications of the school. She said that it is BIT alumnus' strong sense of belonging that inspires every one of the school to make contribution to a better school.
When alumni spoke of their previous anecdotes in retrospect, many of them couldn't keep back their tears. Fifty years ago, they were young and energetic, and they were all devoted to the construction of China. At present, their hair became grey and their backs started to crook. However, they couldn't forget the time when they had rushed into the first row, the confusion when studying calculus, the deep friendship with old classmates and the strong attachment to the mother school. When recollecting the experience of being head teacher of the class, Lao Yunliang, 83 years old, expressed overwhelmed emotions about how fast time had passed.
After the meeting, alumni representative gave the school an elaborately drawn oil painting. Meanwhile, Chairwoman Li presented alumni some souvenirs.

In the afternoon, the alumni visited the Museum of History. By various precious cultural relics and historical materials, they not only had a deeper understanding of BIT' s journey of more than 70 years, but also recalled happiness as well as hardship in their school days. After the tour, they expressed a sense of pride for being a member of this great college with one accord.
Although fifty years had passed by their getting-together, just a simple greeting or an old photo could brought them back the memories of that harsh yet invaluable time. Many intelligent talents have left BIT and contributed to the country with their youth. As time goes by, the mother school gradually became a home to every alumnus, and a harbor where every BITer will always attach greatly to.
Release date:2016-04-13